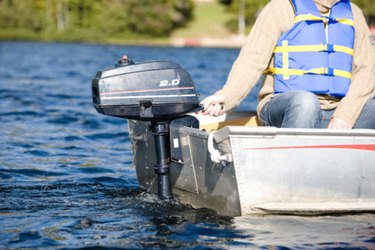 Volvo Penta outdrives are the engines that drive boats. Volvo manufactures high-quality equipment with low fuel consumption, high reliability and long service life. It is important to identify your Volvo Penta outdrive if you need to repair it, or if you want to know the exact type of the engine. It is easy to identify a Volvo Penta outdrive; all you need is to find the serial number and name of the engine.
Step 1
Find the metal tag that contains the outdrive's product name, specification number and serial number. Every Volvo Penta drive contains a tag. You may find the metal tag on a decal on the top or side of the outdrive. The tag contains a series of letters and numbers. Note the number.
Step 2
Read the warranty registration and other boat documents for the serial number if you cannot find the metal tag on the outdrive.
Step 3
Navigate your browser to the Volvo Penta Publications Web Shop (see Resources) and enter the serial number in the "Serial Number" box. Enter the additional information the form requests and click "Find." The search result will show your outdrive's type.