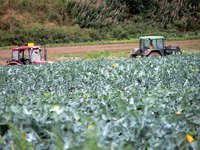 Farms have played an integral role in the lives of many American families. In recent decades, however, many people have moved toward the cities. There are still people who would like to have a small family farm, and there are resources and opportunities available for those families. If you are thinking of starting your farm, there are several steps you can follow to find help, learn what you should expect, and understand what the reality of a farm is.
Things You'll Need
Choose a location. It is often an option for families to live on the farm itself. This is the most traditional option, although it is also possible to live closer to a population center and regularly go to the property where the farm is located. This is a decision that has to be made based on the importance of convenience to you.
Find the land that you are going to use. You can buy or rent land through the real estate market, or you may have already inherited the land from a family member. Before making the decision on where to start your farm, however, you must have an understanding of the past crop yields for this land. It is important to do research on the land and the amount of tillable and plantable acres in order to make sure you get the best possible deal on your farmland.
Be sure that you have money to start the farm. It is possible to secure this capital through a bank loan—especially those that have close ties to the farming industry. Another resource is the Farm Service Agency which provides loans to those who need the capital to get started in farming. Costs for starting a family farm can range anywhere from $250,000 to $600,000. The costs of operating a farm are certainly something that has to be considered.
Know the business. It is imperative that you research the farming business before beginning your farm. This is even true if you have a history with farming. There are classes and local cooperatives available to provide you with the resources you need to get a good start with your farm.
Decide what you want to grow or what type of livestock you are going to raise. Many people will first start out their farms with crops such as corn and soybeans which are known as "row crops." Livestock such as cattle can be more financially rewarding in the end, but the start-up costs are often more expensive and livestock also requires more labor than crops.
Buy the necessary equipment. For the best value for your money, you will want to buy used equipment. New equipment is often more expensive than $100,000—far out of the price range for many start-up farmers. Used equipment can cost as little as a fifth of that price. Often, other farmers are even willing to rent their equipment out to you for an even lower price.
Use helpful resources. There are many difficulties involved in starting a farm, and there is no reason to go it alone. Often, other farmers are willing to offer help and resources such as your local Farm Bureau or the USDA can be a great help to farmers who are just starting out. Usually, programs offered by these organizations will give you the resources you need to put together a business plan that will help you to attract lenders for your farm.