Things You'll Need
Terra-cotta clay mix

Water

Pottery wheel or mold

Kiln

Tongs

Paint (optional)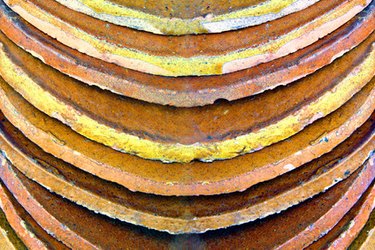 Create a new terra-cotta mug to sip your favorite coffee or tea from. Forge baked-earth art with an orange tone and porous appearance in your own clay-making studio. Protect yourself with a recreation of one of Emperor Qin Shi Huang's army of terra-cotta soldiers. Form, bake and cool your own terra-cotta creations at home. Let your imagination and hands guide your work, which can be painted and fitted together to form works of terra-cotta pottery and art.
Step 1
Mix together a number of finely ground silica clays. Include alkaline materials like lime and alumina. You can use leftover portions from other clay projects to create terra-cotta or buy a premade mix from your local pottery or craft store.
Step 2
Add water to dry clay mixture and form the malleable clay into a desired shape such as a pot or, if creating art, a pattern or figure. Use a pottery wheel or mold to form the terra-cotta into your desired shape.
Step 3
Allow the wet clay to dry partially by placing it out in the sun until it is slightly hardened and holds its form when gently touched or pressed. Fire your terra cotta pot or artwork in a kiln heated to between 1472 and 1832 degrees Fahrenheit until the terra-cotta is completely hardened. Expect the hardening to take from as little as three hours to as long as a day, depending on the size and moisture content of the clay. Remove terra-cotta from the kiln with tongs and allow to cool. Paint the pot or figure if desired once cool.