Things You'll Need
Flat-head screwdriver set

Phillips-head screwdriver set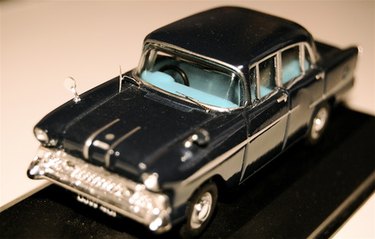 The Chevy Nova underwent an evolution, from its inception as a muscle car in the early 1960s and into the late 1970s, until its swansong as an economy car in the 1980s. All Chevy Novas come standard with a headliner. When the headliner in your Nova is loose or damaged, it can make the car unsightly as well as unsafe to drive by creating a blind spot in the rear view. Depending on the model year, the Nova's headliner may be either a bow-type cloth or a molded plastic variety. Both types can be ordered on the Internet. Replace a damaged headliner with a new one and safely drive your Chevy Nova in style.
Step 1
Detach the dome light, the sun visors and the plastic trim holding the headliner in place. Unscrew any bow rods that may be suspending the headliner from the sides of the roof. Remove the rods from the cloth loops.
Step 2
Remove the old headliner by gently tearing it away from the roof, if it has been glued. Avoid damaging any retaining clips into which the headliner may be fitted.
Step 3
Install the new headliner. If the headliner is a bow type, then insert the bow rods through the cloth loops on the back of the headliner and fasten the rods to the sides of the roof. Fit the headliner into any retaining clips. Reattach the plastic molding, the sun visors and the dome light.
Tip
Work from front to back when installing the new headliner. If the new headliner droops or does not fit snugly, apply adhesive cement to the back for a firmer fit.