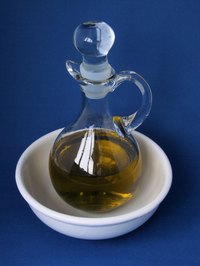 Olive oil consumption can lower your risk for colon cancer, heart disease, hypertension, breast cancer and rheumatoid arthritis. Drizzling olive oil on your food is a convenient way to include it in your diet. Drizzling involves adding a thin stream of olive oil to various dishes for added flavor. Olive oil is usually drizzled from bottles designed to dispense oil called cruets. Cruets have narrow pour spouts that allow you to control the amount of olive oil you drizzle. You can drizzle olive oil over salads, breads, meats, seafood, pasta and vegetables.
Fill the cruet with olive oil.
Hold the cruet over your food. Cover half of the bottle's opening with your thumb if it doesn't have a pouring spout. The amount of drizzle should only be around one to two teaspoons.
Tip the cruet while moving it quickly over the dish, allowing a thin stream of olive oil to cover the food.