Things You'll Need
Flat head screwdriver

Pliers

Wire cutters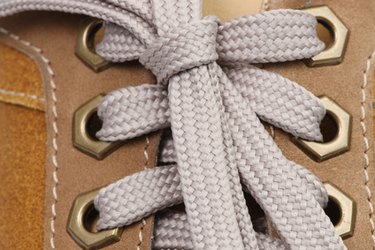 Flags, shoes and drapes often have grommets in them to reinforce and protect holes from frays and tears. A grommet is a metal ring that lines a hole in fabrics. Grommets not only protect the fabric around the holes, but they help to create a tidy appearance by covering up frayed edging. Grommets typically have a long lifespan, so their removal can be difficult. However, with the help of a few tools and a good dose of patience, you can disassemble and remove grommets from nearly any fabric.
Step 1
Push the thin, flat edge of a flat head screwdriver or a craft knife under the grommet to pry up the metal edging in a lever-type action. Continue to carefully shove the screwdriver edge underneath the circumference of the grommet and push up. Work around the entire edge to completely open the grommet ring.
Step 2
Remove the grommet by carefully pulling on it once you have opened up the edging around the entire perimeter of the grommet. Use the pliers and the screwdriver to separate two stubborn halves. Be sure not to unravel any fabric by removing the grommet in a slow manner.
Step 3
Snip the metal grommet in half with appropriately sized tin snips or wire cutters if it does not easily slip out. Remove the pieces and mend the area that remains with a new grommet or binding to deter frays and tears.
Tip
Remove a grommet from old fabric by cutting a larger hole around the grommet perimeter with scissors. Repair the cut area by installing a larger grommet.
Use a craft knife on smaller grommets if you do not have a flat head screwdriver. However, do not use a craft knife on larger grommets because you could snap the blade.
You can also pry up the edging of smaller grommets, such as eyelets, with needle-nose pliers. Or use larger pliers for a big grommet. With pliers, gently push one end underneath the metal ring and push back towards the center.