Things You'll Need
Wood glue, as needed

Dish detergent

Sand paper

Tack cloth

Paint roller

Primer

Paint

Sealer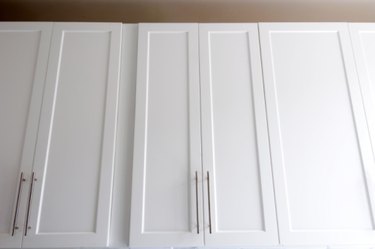 Laminate and veneer furniture is an inexpensive way to furnish your home. Laminate cabinetry and countertops are also available. Laminate and veneer are plastic overlays that cover a pressed wood material, and are often made to look like they possess a wood grain. Over time, the material can become scratched or outdated. Luckily, a new coat of paint can spruce up laminate and veneer surfaces. Painting laminate or veneer furniture can be done in just a few days.
Step 1
Glue down any part of the laminate or veneer that is peeling. Fill holes or dents with a plastic wood filler.
Step 2
Clean the surface with a soap designed to cut grease, such as dish detergent. Rinse the surfaces afterward to remove soap residue.
Step 3
Sand the laminate or veneer with 220-grit sandpaper. Sand enough to remove the sheen from the surface, but not deep enough to reveal the pressed wood beneath. Sanding creates a rough surface to which paint can easily stick.
Step 4
Clean up dust particles with a tack cloth.
Step 5
Apply at least one coat of paint primer to the surface. Use a roller or foam brush to avoid leaving visible brush strokes. Allow the primer to dry overnight.
Step 6
Apply two to three thin coats of paint with a roller -- the number of coats you require will depend on the quality of your paint as well as the shade you select. Darker colors will likely need more coats. Allow each coat to dry completely before applying the next; when in doubt, consult the manufacturer's instructions regarding drying time.
Step 7
Add sealer to the laminate if you are painting a laminate countertop or other piece that will see a lot of wear and tear. Use a sealer that is compatible with the paint you used and apply two to three coats.