Things You'll Need
Oil drum with hole on top

Propane tank

Propane hose and regulator

Metal cutters

Burner

Coat hanger

Drill

Bricks

Burner

Pliers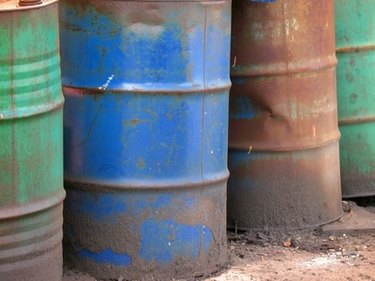 A glass kiln is generally used to melt glass that is used for ceramics. Professional glass kilns can be very expensive, but making one at home only requires time to find the necessary components. An at-home glass kiln can be made using an oil drum and a propane tank. Safety is a key issue when it comes to designing a homemade glass kiln because it requires working with propane gas.
Make a Homemade Glass Kiln
Step 1
Obtain an oil drum with a hole on the top. Cut off the top of drum using metal cutters to create an oil lid. Three fourths of the oil drum is the body and one fourths is the lid.
Step 2
Drill two holes into this new cover put the coat hanger through it to form a handle. Use the pliers to twist the coat hanger to secure the handle.
Step 3
Use the metal cutters to cut a small circular hole in the body of the oil drum near the bottom. This will be where the propane hose will be hooked to the burner inside the oil drum.
Step 4
Cover the inside of the entire oil drum and cover with ceramic glue. Allow 24 hours for ceramic glue before placing the burner inside.
Step 5
Hook up burner to propane tank and test out the glass kiln.
Tip
Wear a facemask and gloves while working.