Embroidery can be the finishing touch to a knit hat. Due to the stretch and texture of knit, however, embroidering knit fabrics can be a challenge. With the proper backing and cover fabrics and the use of hooping, even knit hats can be given a professional-looking embroidery design.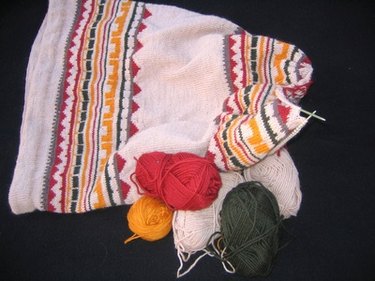 Things You'll Need
Lightweight Tear-Away Or Melt-Away Fabric

Hoop

Medium To Heavyweight Tear-Away Fabric
Step 1
Insert a sheet of medium to heavyweight tear-away fabric behind the knit surface to be embroidered. Set the hoop backing under the tear-away fabric.
Step 2
Place the hoop top over the hoop bottom, stretching the knit fabric to the approximate pull it would have when worn. Do not overpull the fabric or leave it completely tight because this will distort the embroidered image when worn. Tighten the embroidery hoop in place.
Step 3
Place a piece of lightweight tear-away or melt-away fabric over the area where the image will be embroidered. It should be at least 1 inch longer in each direction than the planned embroidery.
Step 4
Baste the top piece of tear-away or melt-away stabilizer in place so that it will not move when embroidered. Embroider the design onto the knit fabric that is sandwiched between the layers of tear-away fabric.
Step 5
Remove the hoop from the knit fabric. Tear away the back stabilizer fabric and then carefully tear away or melt the top stabilizing fabric with an iron.
Warning
Always be cautious around embroidery machines due to the needles and moving parts.