Make your baby shower gift stand out from the paper-wrapped ones. Although wrapping papers and paper gift bags are available in many different colors and designs, a creative and cost-effective alternative is using the gifts themselves as wrappings. Use a baby blanket to wrap small items such as pacifiers, big safety pins and rattles, or attach these cute gifts to the wrapping as colorful accents. Either way, you'll create one-of-a-kind gift packages that will be a hit at any baby shower.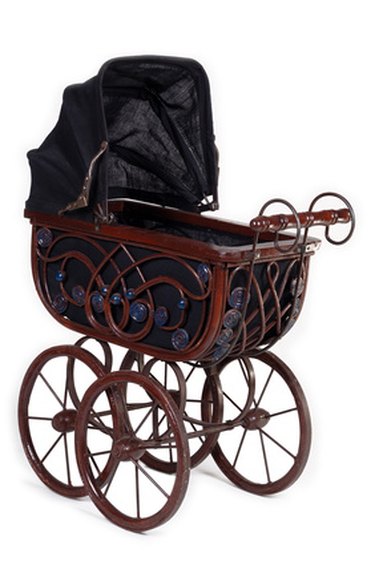 Things You'll Need
Ribbons

Gift Tags

Baby Gifts

Baby Accessories
Gift as Wrapping
Step 1
Choose gift items that can double as package wrapping. For example, baby blankets, bath towels or crib sheets can be used to wrap a boxed gift. Smaller gifts can be tucked inside a rolled crib bumper pad. Fill a small pillow case with baby items. Wrap small gifts with burp pads.
Step 2
Tie a ribbon around the gift to hold the wrapping in place. Secure the wrapping with baby pins, if desired. Roll up a sheet or receiving blanket and wrap it around a gift in place of ribbons.
Step 3
Decorate the wrapped gifts with baby items. Tie baby rattles, pacifiers, baby bottles or feeding spoons onto the gift with ribbons. Make decorative flowers easily with rolled-up baby socks, wash cloths, bibs or hats to tie onto the gift. Clip barrettes or pin baby jewelry and other small items onto the ribbons or ribbon substitutes.
No-Wrap Gifts
Step 1
Assemble a stroller, high chair or baby swing. Remove car seats, walkers and ride-on toys from the box. Use diaper bags, clothes hampers, diaper stackers or baby bathtubs to hold other gifts. Use baby clothing items as wrapping for smaller gifts.
Step 2
Place other gifts inside no-wrap gifts. Set a stuffed toy inside a sit-in gift. Fill diaper bags and hampers with smaller gifts, diapers or baby wipes. Tape bath items inside a baby bathtub. Place rolled-up blankets or onesies inside another onesie for a stuffed-look gift. Give a stuffed animal that is wearing a baby outfit, socks, cap or bib. Cover a carriage pad with a baby sheet and place it, with a baby blanket, inside a carriage. Tape a baby outfit onto the outside of a package of diapers or multiple packs of baby wipes.
Step 3
Add decorative touches to no-wrap gifts. Tie small baby items onto the handle of a stroller or car seat. Tape books and music CDs onto a stuffed animal's hands. Form a garland with baby socks, rattles, pacifiers, teething rings and soft toys. Tie the garland items together with ribbons or tie them onto a rolled-up blanket or towel.