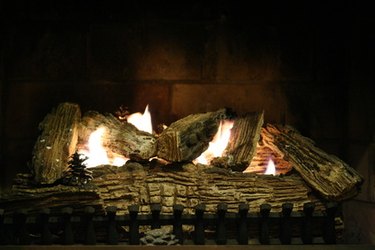 The Heat & Glo is a gas fireplace, which is a heating alternative to a wood-burning fireplace. You can install the Heat & Glo fireplace as you would any other fireplace in your home. The difference is that the source of heat for the fireplace is gas. If the pilot light in the Heat & Glo will not stay on, there are some steps you can take to troubleshoot the problem, so you can then correct the issue and keep the pilot light lit.
Step 1
Verify the pilot flame is touching the thermocouple. The pilot light is flanked on both sides by a piece of the lighting system. One side is the thermocouple and the other side is the thermopile. While the thermopile is a round tube-like device, the thermopile has a tip that is smaller than the rest of the thermocouple device behind the tip. If the pilot flame is not reaching the thermocouple, then adjust the pilot flame up so that it reaches the thermocouple.
Step 2
Identify that the connection between the thermocouple and the gas valve is tight and the tube is fully inserted into the thermocouple. If the thermocouple and valve connection is lose, turn the valve to the right with your hand until it stops turning.
Step 3
Verify that the output from the thermocouple to the valve is at the proper voltage. You can measure the voltage output using a millivolt meter, which is device that measures the voltage the fireplace is putting out. The device measures the voltage in millimeters. Place the lead wire, which is marked on the millivolt meter, on the thermocouple copper lead on the Heat & Glo. Place the second and remaining wire on the millivolt meter on the solder button on the back of the valve, which is the blue wire. While holding in the valve knob, start the pilot light on the fireplace. The reading on the millivolt should be between eight and 16. If it is not then the thermocouple is bad and needs to be replaced. If the millivolt is producing a reading between eight and 16, then it is the valve that needs replacing.
Warning
If the pilot light was lit, all of the metal parts of the fireplace will be extremely hot. You should wait at least one hour before touching any parts of the fireplace. If the fireplace was burning for an extended period of time before the pilot light went out, then you need to wait much longer than one hour before touching the pieces on the fireplace or you could sustain a serious burn injury.
Turn off the pilot light and turn the knob to the off position before working on any parts of the fireplace.