Things You'll Need
Medium bristled brush or steel wool

Bleach

Water sealant

100 or 150 grit sandpaper

Oil-based primer or spray paint

Nylon brushes

Exterior high-gloss acrylic paints

Clear gloss topcoat paint

Optional:

Tub

Towel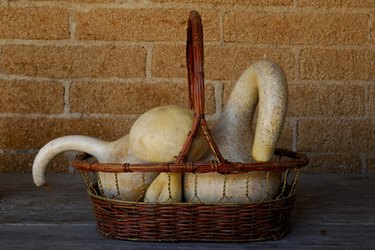 A swan gourd is a large gourd with a hard shell, a round belly and a long swooping top that makes it resemble the graceful swan. Swan gourds can be used in many crafts, including basic painted gourds for outdoor or holiday decorations or cut and dried gourds for baskets and bird feeders. Although the gourds are often painted to look like black or white swans, they can be decorated to look like any bird including flamingoes, winter penguins and geese.
Step 1
Scrub the gourd with a medium bristled brush or steel wool and a mixture of 1 part bleach and 10 parts water to remove mold and dirt.
Step 2
Coat the gourd with a quality water sealant like those used for decks. Set the gourd in a safe place until it dries completely.
Step 3
Sand the gourd with 100 or 150 grit sandpaper to remove any bumps and eliminate small gouges to make a smooth surface.
Step 4
Apply two to three very thin layers of oil-based primer or spray paint to the gourd, letting each layer dry before adding another layer.
Step 5
Lightly sketch your design onto the primed gourd. Use a nylon brush to fill in the design with exterior high-gloss acrylic paints.
Step 6
Apply a layer of clear gloss topcoat paint or matte to protect the artwork and preserve the gourd.
Tip
To make the cleaning process easier, submerge the gourd in a tub of warm water for four hours to soften the hard outer skin. You may have to weigh the gourd down with a heavy towel to prevent it from floating.
Warning
When cleaning the gourd, avoid scrubbing too hard which will break through the exterior skin and promote fungus growth and rot.