Things You'll Need
3 to 6 yards of tulle

1/2 to 1 yard of ribbon

Scissors

Pencil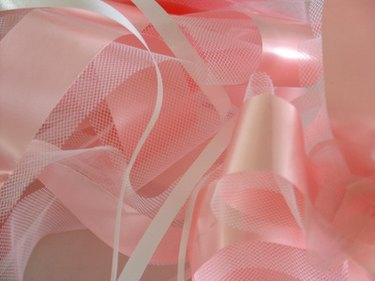 A ribbon and tulle tutu is simple and inexpensive to make because it requires no sewing and only a few basic craft supplies. Young girls with ballerina or princess aspirations will love donning pink or lavender tutus for everyday play. Choose tulle and ribbon in black and orange, and you can create a Gothic princess tutu suitable for Halloween costumes for kids, teens and adult women. To keep this project inexpensive, make sure to check the discount area of your fabric store, where tulle is often available for less than $1 a yard.
Step 1
Wrap the ribbon around your waist, bringing the two sides together to create a snug fit. Mark both spots of the ribbon where they meet at your waist with a pencil. Leave enough extra ribbon to tie a bow. Trim off any excess.
Step 2
Cut the tulle into 6-inch wide strips. Decide how long to make the tulle strips based on how long you want your tutu to be. Each tulle strip should be twice as long as the length of the tutu, so if you want a tutu that is 15 inches long, cut the tulle into 6-by-30-inch strips.
Step 3
Place the ribbon in the center of a tulle strip and tie the strip into a simple knot around the ribbon.
Step 4
Repeat with the remaining tulle strips until the ribbon is covered in tulle from one pencil mark to the other.
Step 5
Tie the tutu around your waist by making a bow with the excess ribbon and your tutu is complete.