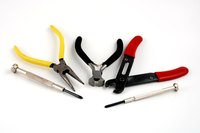 Often, crafts that involve a wire coat hanger require you to cut the hanger to complete the craft. While you can possibly bend and twist the coat hanger repeatedly until it breaks, you can also make quick work of the task and cut the wire. Don't just pull a pair of scissors out of a drawer and expect them to cut through the wire. You will need to make use of a tool that's better suited for the task.
Things You'll Need
Side- or diagonal-cutting pliers or wire cutters
Put on a pair of safety glasses to protect your eyes from possible flying wire. Safety goggles or a face shield are also appropriate.
Place the coat hanger on a work surface such as a countertop that you can stand comfortably in front of while working, without having to bend forward. Position the cutting edges of the pliers or wire cutters on the spot where you want to cut the hanger.
Apply pressure to the handle grips of the tool with your fingers and hand to cut. Keep a tight, steady grip on the handle grips as you cut the coat hanger.