Things You'll Need
Button-down shirt

Khaki pants

Khaki vest

Red bandanna

Bones

Dust brush

Magnifying glass

Safari hat

Work boots

Pocket book with dinosaur facts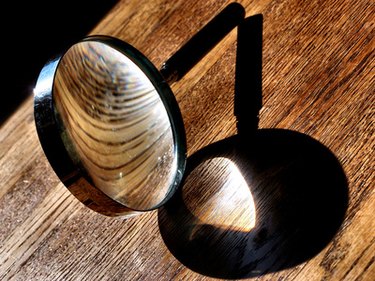 Paleontology is a field of science that involves digging in the dirt and uncovering fossils from long-dead creatures. Creating a costume for this field of work doesn't require too many parts, but will require you to get your hands dirty a bit, just as you would if out on a dig for dinosaur bones.
Step 1
Lay out your clothing--a button-down shirt, khaki pants and khaki vest--and rub dirt into different areas of the material. Keep this up until the clothing looks as if you have rolled around in the dirt.
Step 2
Wear the dirty clothing and wrap a red bandanna around your neck. Place clean and dry bones in various pockets. Leave just the ends poking out. Place the magnifying glass in your back pocket and the brush in your chest pocket of the vest.
Step 3
Put on a safari hat and work boots to finish the look. Walk around with a pocket book of dinosaur facts and read them out every so often, then examine and brush things with a magnifying glass and brush.