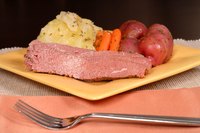 Corned beef becomes prevalent in grocery stores beginning in March in anticipation of St. Patrick's Day. Though it is not traditional in Ireland, according to Allrecipes.com, spicy corned beef is served at many Irish bars and restaurants all day long on March 17th. One method of cooking corned beef is boiling -- adding other ingredients to make a complete meal in the pot. Once you learn how, you can join the many Irish-Americans who make this dish at home to celebrate St. Patrick's Day.
Things You'll Need
Large pot
Spice packet that comes with corned beef brisket
Cabbage
Potatoes
Carrots
Onions
Knife
Bowl
Platter
Plate
Butter
Mustard
White vinegar
Rinse your pre-brined corned beef brisket under cold water. Rub off any excess oils or debris from the meat.
Place the beef into a large pot. Fill the pot halfway with water, covering most of the corned beef. Add the seasoning packet to the water. Turn the heat on high.
Rinse the cabbage, potatoes and carrots. Peel the carrots. Slice the carrots into round bite-sized portions. Cut the cabbage in half, then place the flat side down and cut the cabbage in quarters. Repeat with the potatoes. Dice one large onion. Set the ingredients aside and refrigerate.
Once the brisket begins to boil, turn the heat to simmer. Allow the meat to simmer for three hours. Open the lid and add the ingredients from the refrigerator. Replace the top and allow the meal to cook for another hour.
Remove the vegetables from the pot and place them in a large serving bowl. Take the meat out and carve it into 1-inch slices, before plating the food. Place butter, spicy mustard and white vinegar on the table to complete the meal.