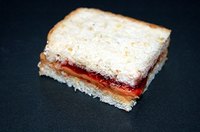 Peanut butter and jelly sandwiches are extremely popular with children of all ages. There are many variations of a PB&J sandwich; you can add mayonnaise or fruit, or use a bagel for the bread. The peanut butter and jelly sandwich is a favorite for school lunches. Parents often make school lunches the night before school. The problem with a pre-made PB&J sandwich is that it tends to get soggy sitting in the refrigerator. By spreading the peanut butter on both pieces of the bread, the jelly is unable to soak through and the sandwich remains intact.
Things You'll Need
Two slices of bread
Knife
Peanut butter
Jelly
Zip-close sandwich bag
Remove the two pieces of bread from the bag.
Spread peanut butter on both sides of the bread with the knife.

Apply the jelly on top of the peanut butter on one piece of the bread. Place the bread on top of the other slice, with the peanut butter and jelly on the inside.
Place in a zip-close bag and seal.
Put sandwich in the refrigerator.