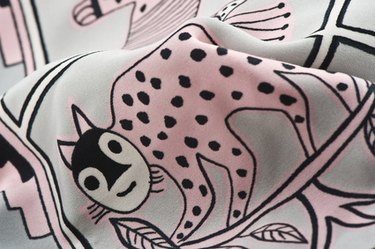 Fabric painting is an art form that you can use to add designs and patterns to aprons, T-shirts and other clothing items, or to create entire paintings and scenes similar to those created on canvas. Bleeding can often occur during this type of painting, although is not necessarily an issue when creating a tie-dye shirt. Prevent fabric paint bleeding by painting on dry fabric and setting the paint as quickly as possible.
Step 1
Lay the fabric on a completely flat surface. Even the slightest angle or tilt can cause the paint to run.
Step 2
Paint on dry fabric only. Wet fabric makes the paints bleed into each other readily.
Step 3
Iron the paints for a few minutes to set the image you have created. Check the manufacturer's instructions of your fabric paints to ensure you can iron the product immediately following application.
Step 4
Blow dry the finished image with the dryer set on low if ironing is not an option. Keep the dryer as far away from the paint as possible to avoid blowing the paint around the fabric if thickly applied.
Tip
The faster your fabric dries the darker the color will turn out. Use water to lighten colors. Wash and dry the fabric before painting. Iron your fabric before painting to avoid wrinkles, which can interfere with the design.