Things You'll Need
Bell-bottom jeans

A bright and busy shirt

Sandals

Flowers

Hippie accessories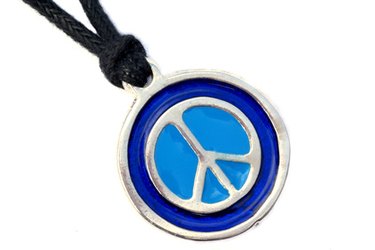 Sixties costumes never seem to go out of style, whether you're going to a Halloween party or a costume party any other time of the year. Pieces for the outfit can usually be found at home and in local secondhand shops, making a '60s costume easy to put together, even at the last minute. All you need are a few basic items, leaving the accessories to the imagination and creativity. Sixties costumes are versatile and unique, and no two are exactly the same.
Step 1
Put on a pair of bell-bottom jeans or flared pants -- ask friends and family for a pair if you don't have any yourself. Many people keep a pair in the back of their closets that you could ask to borrow. If you can't find a pair on your own, bell bottoms can be found in secondhand shops and thrift stores. Any flared pants will work -- this means pants are skinnier in the legs and "flare" out, or are bigger at the bottom of the legs.
Step 2
Wear a bright and busy shirt, such as a tie-dye or paisley pattern. The shirt can vary in size from baggy to slightly snug. Long-sleeved shirts can be found in crazy and bright patterns with flared sleeves, which might be more suitable during cold months of the year.
Step 3
Use a pair of sandals as the footwear for your costume. Flip-flops or Birkenstock-style sandals are the most authentic-looking shoes for this costume, but nearly any comfy shoe will work if you don't have a pair of sandals to wear or the weather is too cold to leave your toes exposed.
Step 4
Tie a bandanna, scarf or piece of cloth around your head to make a headband. Headbands can be made of nearly any material, from leather to cotton and can be any color or width. It should go across your forehead and around to the back of your head, and can be tied on the side or in back.
Step 5
Add accessories to your outfit such as flowers in your hair, necklaces with peace signs, hearts and flowers, or patches on jeans and vests that can be worn over your shirt. Decorate your face with face paint or decorative eye makeup. Wear round sunglasses with colored lenses; back in the '60s, people wore wire-rimmed glasses with lens colors such as blue, red and yellow. You can also wear decorative belts with flowers, patterns or hearts on them.
Tip
To style your hair to match your costume, wear it down and straight if you're a woman; for men, just wear it as shaggy as possible. Natural was all the look, with the exception of women who straightened their hair.