Things You'll Need
Crepe wool

Iron

Scissors

Liquid latex

Small brush

Plastic wrap

String or spirit gum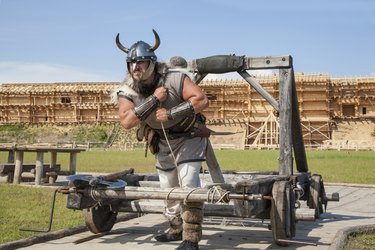 Making a beard for a costume is always preferable to buying one. Instead of having to use a poorly made generic beard, you can create a custom one that fits your face perfectly. While making the beard takes some time, you can reapply it as many times as you want. The two main materials will be liquid latex and crepe wool, which is a fake hair used in theater.
Step 1
Cut the strings that the crepe wool is braided on, then pull off the wool. You want three colors: one that matches your hair color, a highlight and a lowlight.
Step 2
Iron the crepe wool on high heat until the tight braids become loose waves.
Step 3
Blend the three colors of wool into one uniform shade. To do this, hold tufts of all three colors. Pull them apart, then put them back together and pull them apart again. Keep doing this until the colors blend. Blending three colors makes the beard appear much more realistic than using a single color.
Step 4
Brush two coats of liquid latex over the entire, cleanly shaven beard area on your face. Allow the latex to dry. Wrap the brush in plastic wrap while it is not in use to keep it from drying out.
Step 5
Pull a small amount of the wool free from the bunch and cut it in half at the midpoint, creating two tufts with neatly trimmed edges. This step will be repeated many times as you create the beard.
Step 6
Brush a small amount of liquid latex under your chin.
Step 7
Press the tips of the trimmed edge of a tuft of wool into the latex. Hold the wool in place until the latex dries, gluing the hair to the latex beard base.
Step 8
Apply more latex higher up your chin and apply more wool. Keep working in small steps until the wool reaches your lower lip.
Step 9
Bring the latex and wool up the sides of your cheeks to your sideburns, moving in small steps. Remember to only insert the trimmed tips of the wool into the latex, don't mash it in or the beard will look fake.
Step 10
Apply latex to your upper lip and create a mustache in the same manner as the beard if desired.
Step 11
Trim and style the beard to match whatever character it is being used for.
Step 12
Gently peel off the beard and latex base.
Step 13
Attach a string to the two sideburns. It will stretch over your head and hold the beard in place. You can also glue it back on with more latex or with spirit gum, which is available in most costume shops.
Tip
Be careful not to get liquid latex into your hair or clothing. It will be difficult to remove.