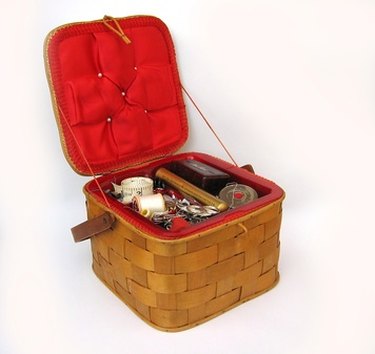 Skipped stitches, bunched fabric and broken threads are enough to make any machinist throw up his hands in defeat. Sewing can be a creative outlet and even an addiction for some people. However, it is frustrating when you have a project you want to work on and nothing seems to be going right with your sewing machine. You can do many things to sort out your sewing machine problems before calling a repair shop in to the rescue.
Step 1
Connect the foot pedal to the machine and plug the power cord into the wall socket. If the machine does not have power, it will not work.
Step 2
Turn the power switch on.
Step 3
Remove and reinsert the light bulb if it does not come on when you turn the machine on. Change the light bulb if it still does not work.
Step 4
Thread the machine properly. If it is incorrectly threaded, the upper thread may break or unwind freely from the spool. It will also prevent the machine from stitching properly.
Step 5
Adjust the needle thread tension dial. If it is set incorrectly, it can cause the fabric to bunch and pull while you sew. It can also cause the thread to break and stitches to be too tight, puckering the fabric, or too loose.
Step 6
Check the needle. If it is not moving, be sure that the bobbin winder is not engaged. If the needle is moving but not forming stitches correctly, it may be defective or broken. The needle needs to be sharp and straight. Be sure that the needle is inserted into the needle clamp properly.
Step 7
Attach the proper presser foot for your project and be sure to lower if before you start sewing. Otherwise, the fabric may not move properly when you are sewing.
Step 8
Engage the bobbin winder when you are winding a bobbin. This prevents the needle from moving and keeps the tension on the thread so that the bobbin winds properly.
Step 9
Reload the bobbin correctly. Be sure the bobbin is not damaged or thread can catch and break on uneven surfaces. If the bobbin is not inserted into the bobbin case properly, the machine will not form proper stitches.
Step 10
Use the correct fabrics, threads and needles together. If the wrong combination is used, it can cause fabric to bunch or needles and thread to break.
Step 11
Hold fabric down firmly, otherwise you may find skipped stitches.
Step 12
Clean, lubricate and perform regular maintenance on your machine to keep it in top working order.
Tip
Experiment on scraps of material when you are testing your machine to see if an adjustment worked.
Warning
Be sure to replace the faceplate after changing the light bulb.