Things You'll Need
Short-haired curly brown wig

Vintage black sunglasses

Brown blazer

Button-down white shirt

Straight-legged blue jeans

Houndstooth scarf

Black cowboy boots

Harmonica or acoustic guitar with shoulder strap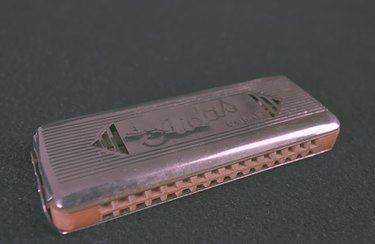 Bob Dylan is a folk musician who has had a considerable amount of influence in the music industry. In his younger years, Dylan was often seen walking around with tousled hair, dark sunglasses and a guitar. Dressing up as Bob Dylan for Halloween requires minimal effort and a trip to your local thrift store. Impress your friends and neighbors with this costume at parties or while trick-or-treating around your neighborhood.
Step 1
Put the wig on your head and adjust it so that there are no stray hairs falling from beneath the wig.
Step 2
Put on the button-up shirt, blue jeans and blazer, and wrap the houndstooth scarf around your neck. Leave the shirt untucked.
Step 3
Put on the boots so that they are underneath the pant legs.
Step 4
Place the sunglasses on your face. Bob Dylan was famous for wearing his sunglasses, so keep the glasses on for the entire time you wear the costume to maintain the look.
Step 5
Put the harmonica in your pocket or sling the guitar around your shoulder. Bring these out as you socialize or go trick-or-treating and play for your friends and neighbors.