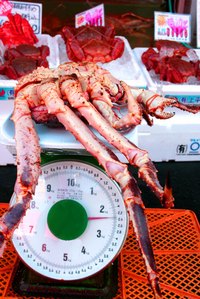 No matter what tools you use to crack king crab leg shells, the meat inside is delectable. To preserve the flavor, king crab legs are quick-cooked then quick-frozen right after the catch. Before you serve the legs, thaw and then steam them until they have fully heated. Although the long prickly legs may look intimidating, cracking king crab shells using nutcrackers, seafood forks, kitchen shears, or crab-cracking tools makes the task easier.
Things You'll Need
Heated king crab legs
Kitchen shears or chicken shears
Crab-cracking tools (optional)
Nutcracker
Seafood forks
Cloth napkin or gloves
Cracking King Crab Legs Using Kitchen Shears
Using cloth napkins or gloves, pick up and hold the hot crab leg to protect your hand from the spines on the crab shell and to keep from burning your hands. Break the crab legs apart at the joints. A whole crab leg will have at least two joints.
Insert the kitchen shears (or chicken shears) into the shell then clip the shell open all the way. No other cracking tools are necessary when using kitchen shears to open king crab legs. Insert a seafood fork inside the split shell to remove the meat in a single piece. If necessary to make removal easier, split the shell down two sides.
Use the seafood fork for dipping the crab meat into drawn butter and for eating the meat. If you are serving other family members or guests, you will need enough shears for each guest or you will need to split the leg shells before serving them.
Cracking King Crab Legs Using Nutcrackers and Crab-cracking Tools
Hold the crab leg with a towel or wear a glove on one hand. Crack the shell with a regular hand-held nutcracker. Use a seafood fork to open the shell fully and extract the meat. Seafood forks are small and most have sharp edges between the tines.
Insert the tine of the fork into an end of the shell then work the tine along the length of the shell, cutting as you go. Use the fork to remove the meat in one piece from inside the shell. The small fork is especially handy for getting crab meat out of the tighter joint areas.
Crack the joint with the nutcracker, open it with the fork, and then use the fork to pull the crab meat from the shell and dip it in clarified butter. Crab-cracking tools work the same as kitchen shears, nutcrackers, and seafood forks for opening king crab legs; however, they come in expensive sets. You will need a set for each person at the dinner table.