Things You'll Need
Oven

Parchment paper

Cookie sheet

1 bag small, waffle-shaped pretzels

1 bag Hershey's Kisses or Hugs

1 bag red and green M&M candies
Transform everyday snacks into festive holiday cheer with a few simple steps. Making reindeer noses is an easy and enjoyable, edible craft that parents and children can enjoy doing together. A red M&M pressed inside of a soft Hershey's kiss set atop a bite-size waffle pretzel gives the appearance of a reindeer nose - especially to young children with active imaginations. If you don't have the few basic items you need to make reindeer noses, you can easily pick them up at your local grocery store. Make these treats during the holidays or on a night when your family decides to sit down and enjoy a classic Christmas movie such as "Rudolph the Red Nosed Reindeer."
Step 1
Preheat your oven to 170 degrees. Lay a sheet of parchment paper on top of a cookie sheet and place it on a counter. Place pretzels on cookie sheet in evenly spaced rows about one inch apart, keeping in mind that one pretzel will be used for each treat.
Step 2
Open and unwrap a bag of Hershey's Kisses or Hugs and place them in a small bowl. Set one Kiss or Hug on top of each pretzel.
Step 3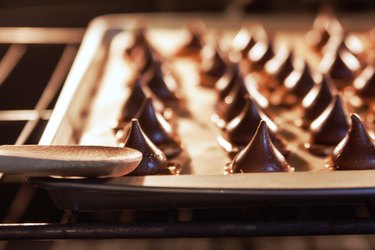 Place cookie sheet with pretzels and Hershey's candies in the oven and bake for four to six minutes or until the chocolates feel soft when gently touched with a small wooden spoon.
Step 4
Remove the sheet from the oven and slide the parchment paper, with treats on them, onto a countertop. Quickly press one M&M candy into the center of each Hug or Kiss. Allow treats to cool on the counter until completely firm.
Tip
If you want the treats to cool faster, set them in the refrigerator for 10 minutes after pressing M&M's into the Hershey's candies.