Things You'll Need
Pencil

Ruler

Gray paint

Paint brush

Scissors

Bronze fastener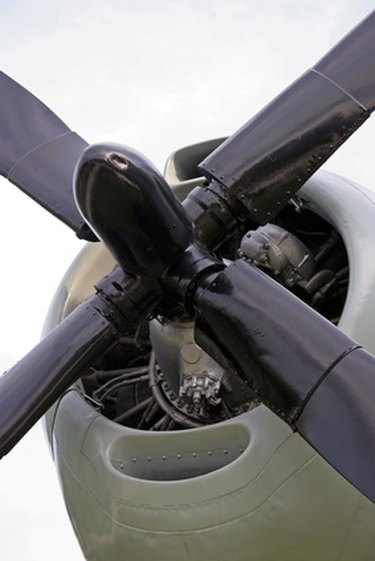 Propellers are seen mainly on the tops and backs of helicopters. Create a moving propeller craft out of thin cardboard. The thin cardboard spins around a bronze fastener when pushed or flicked. Use the propeller as a toy or decoration. This set of instructions makes a two-pronged propeller, but you can modify it to make a three- or four-pronged one by drawing the shape differently. Thin cardboard fits on the fastener better than thick cardboard.
Step 1
Draw a large circle 6 inches in diameter on the cardboard. Draw an 11-inch oblong, rounded rectangle at least 1 inch away from the circle.
Step 2
Paint the circle and teardrops with gray paint. Wait for it to dry before continuing.
Step 3
Cut out the two shapes with scissors.
Step 4
Poke the sharp end of a bronze fastener through the middle of the circle. Remove the fastener and poke a hole into the middle of the oblong shape. Leave the long cardboard shape on the fastener and push the circle back through the pointed end. Split the end of the fastener and flatten the two prongs.