Things You'll Need
Seed beads and crystals

Thread to match your knitting project

Beading needle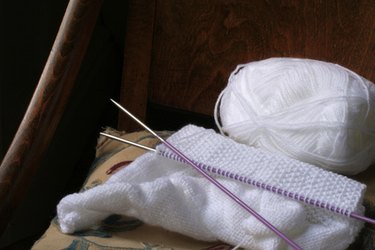 Add dimension and sparkle to an already knitted scarf by embellishing it with beads and crystals. That extra touch can make an old scarf look brand new, or give a modern look to an already completed project. Beads can be added during the knitting process, but if you are new to the idea or just want to try something different, consider adding them after you have completed your pattern. It is a simple process to sew the beads onto your knitting, and you can complete the project in a short period of time.
Step 1
Spread out your knitted scarf. Plan out your design before beginning so you have an idea of where the beads and crystals will go. You can either highlight a design that's part of the knitted pattern, or create some special ornamentation to add to the scarf. For example, a white winter scarf would lend itself to some sparkling snowflakes made with white beads and silver crystals, while a multi-colored scarf might only need some beaded highlights in colors that match the colors on the scarf.
Step 2
Thread your needle. On the underside of the scarf, push the needle through one stitch, not going through the scarf. Bring it back through a short space away and tie the ends together to secure the thread to the knitting.
Step 3
Push the needle through the knitting to the right side of the scarf. Thread a bead on the needle and pull the needle and thread through the bead. Push the needle through the knitting, keeping on the right side, so that it goes under the bead. Push the needle through the bead and pull the thread through again. This will strengthen the bead on the knitting. Push the needle back through the scarf to the underside. Tie a slip knot to secure the bead.
Step 4
Continue adding beads to your scarf in the design you planned by repeating Step 3 for each bead or crystal you want to put into place.
Tip
Once beads are added to any knit or crochet piece, it must be hand-washed and laid flat to dry and not placed in a washer or dryer. This will keep the beads tightly secured to the piece.