Things You'll Need
Wooden plaques

Picture hanging materials

Hammer

Nails

Paint

Paintbrushes

Screw-in hooks

Mannequin heads or head forms

Doll arms

Hot glue gun

Hot glue sticks

Hats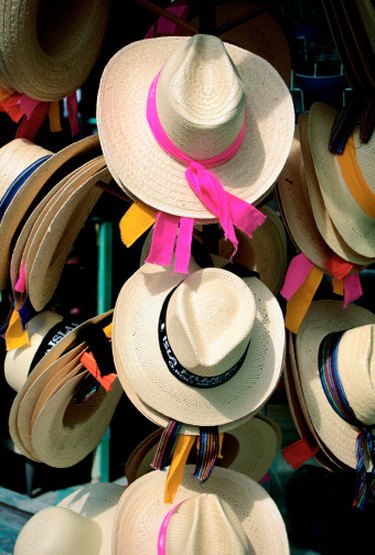 If you find your closet is becoming over-run with your hat collection, maybe it's time to show pride in your headgear and display them on the wall instead of hiding them away. You could buy a traditional wooden hat rack and hang your hats on it, or even use hooks or shelves. For a more creative option, put your own spin on how to hang hats on a wall. From the simple to the bizarre, you can find your own special way to display your favorite hats and save space in your home at the same time.
Step 1
Purchase one wooden plaque for each hat you own. Wooden plaques are available at any craft store; in general, they are approximately one-inch thick and come in various shapes from circles to hearts and rectangles. Choose one style or several that suits your preferences for this project.
Step 2
Attach picture hanging options to the back of each wooden plaque. Choose the picture hanging piece that is a flat piece of metal with holes on each end and a row of jagged "teeth" on one side, and attach this to the top center of each plaque with two small nails. Hammer a nail into your wall for each plaque, leaving enough room between plaques as needed.
Step 3
Paint the wooden plaques. Use one solid base color for every plaque for a simple look, or change it up a little bit by painting the plaques in rainbow colors, patterns, or even colors that match your hats.
Step 4
Attach a screw-in hook to the center front of each plaque to hang your hats on it. Simply screw the hook into the center of the plaque and leave the open end of the hook facing directly up.
Step 5
Instead of the hooks, make your wall display even more one-of-a-kind when you use hot glue to attach mannequin heads or hat head forms to the plaques and display your hats on these. If that doesn't suit your fancy, try cutting off plastic baby doll arms and glueing them to the plaques to hold your hats. What some call macabre others call creative inspiration.