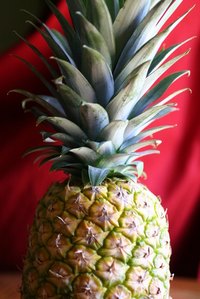 Children who watch the Nickelodeon show "SpongeBob SquarePants" may know that SpongeBob's pet snail, Gary, responds to his owner with a soft little "meow" for most any situation. Fans of the show might enjoy showing their love of Gary with a homemade snail costume made with some everyday items.
Things You'll Need
Light-blue sweatshirt
Light-blue sweatpants
Large, round, pink pillow
Paintbrushes
Red craft paint
Dark-blue craft paint
2 small Styrofoam balls
Yellow craft paint
Black marker
Black headband
2 light-blue pipe cleaners
Craft glue
Safety pins
Set the sweatshirt and sweatpants aside while you assemble the shell and the eyes.
Paint a red swirl on the pink pillow. Start at the bottom of the "shell" and make a curving line to the midpoint of the pillow. On one side of the pillow the design should look like a forward-facing "P"; however, stop before connecting the final point on the "P." On the other side of the pillow, reverse the "P" so it appears backward; stop before connecting the final point on the "P."
Paint five small blue dots at the top of the pillow. Start at the midpoint of the shell, at the front of the pillow, and evenly place blue dots along the top of the red swirl. This will look as though the five dots make an arch over the red paint swirl. Repeat the process on the other side.
Allow at least six hours for the paint to dry.
Paint the two small Styrofoam balls yellow to make Gary's eyes. Allow at least six hours to dry. Paint a small red circle in the center of each ball. Allow two hours for the paint to dry. Use a black marker to make a smaller dot in the center of each red dot.
Wrap the bottom 1 1/2 to 2 inches of each pipe cleaner around the top of the headband. Place the pipe cleaners 3 to 4 inches apart on the headband.
Use a small amount of craft glue on the top of each pipe cleaner; place one "eye" on each. Poke the tip of the pipe cleaner into the Styrofoam for better attachment. Allow two to three hours to dry.
Pin the "shell" onto the back of the sweatshirt with safety pins. The bottom of the shell is where the bottom of the "P" begins.