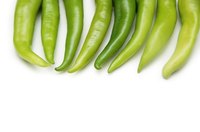 Green chiles provide spiciness to a variety of dishes. A staple in New Mexican cuisine, they add depth to casseroles, sauces, dips, vegetables and meats. Whether you purchase them or grow them yourself, whole green chiles develop their best flavor after roasting. The firmer the chile, the better it roasts, so choose those that feel meaty and don't have wrinkled skin. Your oven broiler does all the work of the traditional chile roaster.
Things You'll Need
Wash the green chiles under cool running water. Pat them dry with a paper towel.
Spread the green chiles out on a broiler pan. Place them so they do not touch one another.
Preheat the oven on the high broiler setting. Move the oven rack up to its highest position, usually 4 to 5 inches below the heating element in the top of the oven.
Slide the green chiles onto the top oven rack. Monitor them closely through the glass window on the oven door.
Remove the pan from the oven as soon as the green chile skins begin to brown and blister, usually within two to three minutes. Turn the green chiles over with a pair of tongs, then return them to the oven until the other side begins to brown and blister.