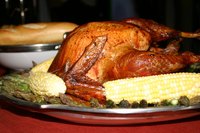 Most families cook their turkey the day they plan to serve the bird, however, slow-cooking a turkey overnight or throughout the day at a lower temperature produces a moist, juicy turkey. There are safe and unsafe ways to cook a turkey in this manner, so it is imperative that you follow the guidelines presented in order to avoid making anyone sick.
Things You'll Need
Paper towel
Meat thermometer
Thaw the turkey according to package instructions (the amount of time will depend on how much your turkey weighs; if guidelines are not available on the turkey wrapping itself, look it up online). Remove the giblets and set them aside for making the gravy. Thoroughly rinse the thawed turkey inside and out. Pat dry with a dry paper towel.
Preheat the oven to 225 degrees. Place the turkey in the roasting pan (do not stuff the turkey at this time; the stuffing will have to be made separately), placing vegetables around the bird and seasoning according to your recipe. Pour enough chicken stock and water into the pan so that it is three quarters of the way full (put additional chicken stock off to the side for adding to the pan throughout the cooking if the liquid level gets low).
Cover the turkey loosely with tinfoil. Carefully slide the covered roasting pan into the oven (it may be easier to add the chicken stock and water to the pan after the pan is in the oven, in order to avoid spills). Close the oven door and allow the turkey to bake until the internal temperature of the turkey (just inside the turkey thigh) reaches 165 degrees Fahrenheit or 75 degrees Celcius. The length of cooking time will vary according to the side of the turkey, but check the turkey every one and a half to two hours if possible to ensure the liquid level is still okay and begin checking the internal temperature after approximately four hours of cook time.