Things You'll Need
2 to 4 lb pork sirloin roast

13 oz. can sauerkraut

2 apples

2 to 3 cups apple juice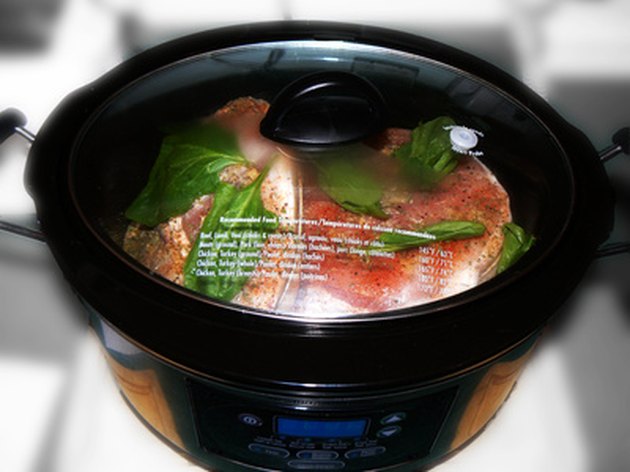 Pork is the number one meat consumed in the world and the pork available today has much less fat due to improved feed and breeding, according to the USDA. Pork is rich in essential vitamins and minerals and it is simple to prepare in a slow cooker. The pork sirloin cut often has the hipbone and backbone included. Have the butcher remove the bones and roll the meat into a boneless roast for cooking.
Step 1
Lightly brown the pork roast in a medium hot skillet after trimming any fat from the roast. Roll the roast to brown all sides.
Step 2
Place the browned pork sirloin roast in a slow cooker. Turn slow cooker on the "low" setting.
Step 3
Open the can of sauerkraut and place the contents in the slow cooker around the pork sirloin roast. Do not drain the sauerkraut; use the liquid from the can as well.
Step 4
Wash and remove the core from the apples with a small knife or apple corer. Cut 1/2-inch slices and leave on the apple skin. Place apple slices around the top of the pork sirloin in the slow cooker.
Step 5
Pour the apple juice into the slow cooker. The apple juice should cover most of the pork sirloin and keep it moist during cooking.
Step 6
Cover the slow cooker and cook the pork sirloin seven to eight hours on low heat. Remove the pork roast and place on a platter for 15 minutes before slicing. Put the sliced pork on a platter with servings of sauerkraut topped with an apple slice surrounding the carved pork sirloin.
Warning
Pork should be cooked within three to five days of purchasing or you may store it in the freezer.
Cook the pork until it reaches 160 degrees Fahrenheit. Use a meat thermometer to check the pork's temperature.