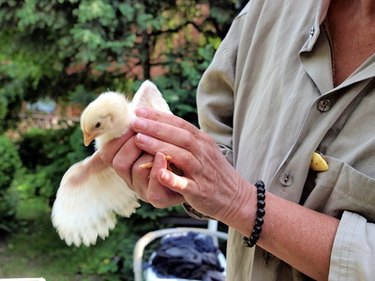 Halloween is a wonderful opportunity to dress like well-known personalities, such as Jack Hanna and Steve Irwin. Most of the elements of your DIY zookeeper costume are probably already in your closet, ready to assemble into an easily recognizable outfit. Add a few accessories, like a furry koala or rubber snake, or dress up the kids as lions and tigers and bears (oh my) for a fun trick-or-treating excursion through the wilds of your neighborhood.
Assemble the Zookeeper Outfit
Khaki is the word of the day when assembling a zookeeper outfit. A button-up, short-sleeved khaki shirt combined with khaki shorts or cargo pants provide the elements needed for a successful zookeeper costume. You can add a white or black long-sleeved T-shirt and leggings or thermal shirt and pants underneath the khakis for warmth.
If assembling a women's zookeeper costume, ignore the short skirt outfits sold by retailers unless you're going to an adult party because you'll freeze if you're pounding the pavement with the kids on the Halloween trick-or-treat trek through the neighborhood. Dress the kids in layers of warm clothing too, whether they're dressed in a "mini me" kids' zookeeper costume or as a furry companion.
Do you have a last-minute invitation with not a speck of khaki in your closet and no time to shop? Jeans; a beige, brown or blue T-shirt or sweatshirt; a hat; sneakers or work boots; and a lanyard sporting an ID badge with "ZOOKEEPER" in bold black lettering will convey the zookeeper persona without damaging your bank account.
Accessorize the Zookeeper Costume
Put on a khaki or brown bucket hat, fedora or other medium-brimmed hat. If it's really cold, a brown or black jacket or an old army-surplus jacket and matching gloves will keep you warm. A brown or black belt and work boots with heavy socks complete the outfit.
Add a wide-band wristwatch, binoculars, black-frame glasses or, if a daytime affair, mirrored sunglasses. A classic canvas messenger bag slung over your shoulder carries all your essentials or if you're pushing a stroller, the extra bottles, diapers and other baby items.
Pull back your hair in a practical ponytail or braid. Zookeepers are hard-working folks, so keep makeup light with a moisturizing foundation, a touch of eye shadow and mascara and clear lip gloss or, for those who don't wear makeup, just moisturizer and lip balm.
Slip into a koala or monkey backpack to carry water bottles, keys, your wallet and other essentials while trick-or-treating. Pick up a fluffy stuffed toy to carry under your arm, drape a plastic snake around your shoulders or attach a rubber lizard to a stick to "walk" in front of you and the kids.
Alternatively, dress up the little ones in wild animal costumes. Drape a blanket over the stroller and then dress the baby in a fuzzy leopard-print, zebra-striped or bear or lion snowsuit. A teddy bear hoodie jacket over warm clothes and a matching tail pinned to the back of a toddler's pants make a practical outfit for an active child. A plus is that the jacket is a budget-friendly addition to the winter wardrobe.
Think Safety on Halloween
While putting together the zookeeper outfit and accessories, think safety. Add reflective tape to your outfit and carry a flashlight if you're going to be walking outside after dark. Give the kids reflective treat bags and keep them close; don't let them run ahead.
In addition, though you might want to paint your own or your baby's face to match the costume, think again. Face paint products, even if labeled baby-safe or hypoallergenic, may irritate sensitive skin. Unless you're going for a zombie zookeeper look, you don't have to paint your entire face to pull off your zookeeper costume.