Things You'll Need
Marker

Stencil

Felt

Scissors

Khaki or brown baseball hat

Safety pins

Craft glue

Card stock

Stuffed animals

Brown or khaki short-sleeved shirt

Brown or khaki shorts

Green or brown belt

White socks

Hiking boots or tennis shoes

Metal bucket

Play or real food

Walkie talkie (optional)

Clipboard (optional)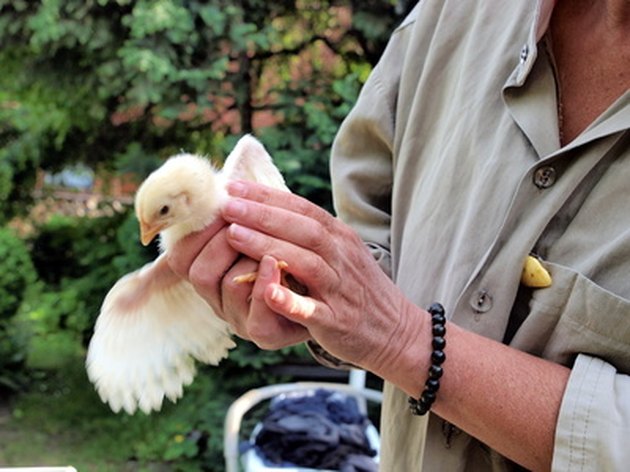 Zookeepers embody that curiosity and love for animals we all had as young children. Those who want to revisit their third grade dream job are in luck, since one of the simplest costumes to create is a zookeeper. There are very few items you need to make the costume, and most can be found in your basement or broom closet. And if the costume is for your child, it can serve as a lively afternoon project that you both can work on together.
Step 1
Trace the word "Zoo" on felt using a stencil and marker in a size small enough to fit on a baseball hat. Cut out the word from felt using scissors. Glue these letters to the front of the hat and allow 30 minutes to dry. Or use safety pins to hold the letters in place if you don't want to ruin your hat.
Step 2
Draw a badge freehand on card stock with your marker. Write the words "Staff" and the person's full name on the badge. Cut out the badge and attach it to the front of the shirt using either glue or safety pins.
Step 3
Use safety pins to attach stuffed animals to the shirt. Use stuffed animals, such as a snake, monkey or bird, that are as close to scale as possible.
Step 4
Put on the shirt, shorts and belt, then the socks and hiking boots. Lastly, put on the hat.
Step 5
Place lettuce or other food items such as fruit inside the bucket. You can also put play food in the bucket.
Step 6
Attach a real or play walkie talkie to the belt. You can also carry a clipboard to make the costume look even more authentic.
Tip
If you have a dog, dress him up as a zoo animal and bring him with you. Give him a tiger-striped sweater or attach a craft foam rhino horn to his head.
If you are going trick-or-treating with the kids, dress each of them up as their favorite animals and be the zookeeper that manages the flock.
Add rips and tears to the clothes and a little fake blood to portray a zookeeper who's just had a close encounter with one of his animals.