Things You'll Need
Tape measure

Jigsaw with a coping blade

Protractor

File rasp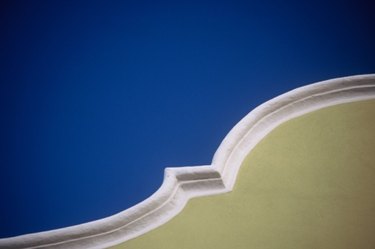 Crown molding is the molding that is attached at the point where the wall meets the ceiling. It is generally an aesthetic type of woodwork that highlights and finishes off a room. In most cases, crown molding is cut on the edges with either a compound miter saw or a coping saw. The correct angle can be dialed in on a compound miter saw, and the molding will be cut correctly when it is placed under the saw blade. A coping saw will make the correct angle cut, but it must be done manually. To achieve the desired results with a jigsaw, a specialized coping blade must be used.
Step 1
Measure the piece of crown molding to the correct length.
Step 2
Cut the approximate angle with your jigsaw coping blade. This step will be trial and error. You can use a protractor to gauge the correct angle where the ends of the two pieces of crown molding meet. In many rooms, standard angles will be 45 degrees and 90 degrees, but using a jigsaw means cutting these angles freehand.
Step 3
Rasp the end of the cut angle with a file rasp. Fit it to the next piece mounted on the wall, and if it doesn't quite line up, file down the angle until it makes a perfect fit.
Tip
There are two specific attachments for jigsaws that aid in cutting crown moldings. One is a jig that places the crown molding inside while automatically lining up the correct angle for the jigsaw blade. The other is a coping foot. This device allows the jigsaw to be inverted while the blade is pivoted on the molding for a precise cut. Although neither of these devices are as accurate as a compound miter saw, they will get the angles close enough so that a little finishing filing will be all you need for a perfect fit.