Things You'll Need
Citric acid

Cornstarch

Baking Soda

Epsom salt

Distilled water

Shea butter

Almond, jojoba or grapeseed oil

Vitamin E oil

Soap mold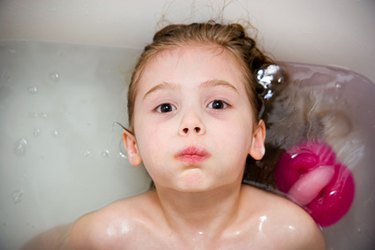 Bath bombs are fun for kids and adults alike by adding a fun fizz and bubbles to an otherwise boring bath ritual. Bath bombs add color to the water and release a calming or awakening scent, depending on which fragrance you use. Adding shea butter to your homemade bath bombs gives an extra moisturizing boost to your bath that everyone can use.
Step 1
Combine 1 cup baking soda, 1/2 cup citric acid, 1/4 cup Epsom salt and 1/2 cup cornstarch. You can use a wisk to help make the mixture very fine.
Step 2
In a separate bowl, mix together 1 vitamin E capsule, 1 tablespoon melted shea butter, 1 1/2 tablespoons almond, jojoba or grapeseed oil and 3 tablespoons distilled water. Mix these wet ingredients as well as you can. You may find a jar works best so you can shake the ingredients for an easier mix.
Step 3
Pour the wet ingredients into the dry mix and start stirring immediately and quickly. When it appears the oils have been mixed evenly with the dry ingredients, try taking a small handful of soap and squeeze it. It should stick together at this point.
Step 4
Fill both sides of your round soap mold. Put in a little extra on top of both sides and press the molds together. Only push down, do not twist. The molds will not meet in the middle, but leave about 1/4 inch between the two. Remove the mold within 5 minutes or you will not be able to take it off.
Step 5
Package your shea bath bombs in cellophane bags or shrink wrap bags. This will help keep the moisture out and make the bath bomb last until it is ready to be used.
Tip
You can add a very small amount of cake icing dye to the mix to make different colors of bath bombs. If you would like to add a fragrance, add 15-20 drops of essential oil or 1 1/2 tablespoons top quality cosmetic grade oils. Do not use any water based or alcohol fragrances for your bath bomb. Do not add too much moisture to your mix, this will cause the fizzing action to start and may cause the bombs to cure oddly.