Things You'll Need
Muffin pan

Cooking spray

Small saucepan

1 1/4 cup water

Measuring spoon

6 eggs

Knife

Spoon

2 paper towels

Plate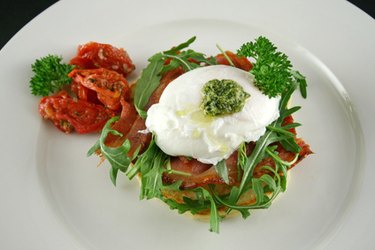 For such a simple little piece of food, preparation of an egg can be complex. Not only do you have all the different ways to prepare an egg, fried, scrambled, poached, and hard- and soft-boiled, you also have the variations within the classifications, like sunny-side up or wet scrambled eggs. A poached egg, often considered more of an advanced technique of cooking, is in truth quite simple to prepare.
Step 1
Turn an oven burner on high. Pour the water into the saucepan, place the saucepan on the burner and cover it. Wait for the water to boil.
Step 2
Heat the oven to 400 degrees Fahrenheit. Spray the cups of the muffin pan lightly with cooking spray.
Step 3
Place 2 tbsp. of hot water into each cup in the muffin pan. Crack one egg into each cup.
Step 4
Bake for seven to nine minutes, depending on desired hardness. Remove the eggs from the cups by running a knife between the edge of the cup and the egg, and then spooning the egg out.
Step 5
Place the egg on a plate covered with a paper towel; dab the top of the egg with another paper towel to remove any excess water.