Things You'll Need
eBay account

Craigslist or Kwikswap account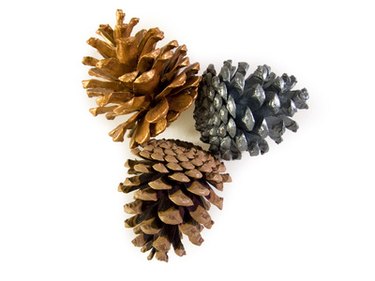 Pine cones are used by many to make crafts, potpourri and wreaths. Because not everyone who needs them has access to pine cones, buyers for pine cones abound. If you have pine cones at your disposal but have no use for them, there are several ways for you to make some extra money by selling them.
Step 1
Collect the pine cones. Make sure they are in good condition, open widely and have all their scales. Clear any debris, such as bugs and pine needles, and make sure they are dry. If possible, determine the species of tree from which the pine cone comes so you can put it in the description. Take photographs that show the size and quality of the pine cones to include in your listing or ad.
Step 2
List them on eBay. Crafters in need of pine cones will either want to buy them by the count or by weight so list them either way. You will probably only make $5 per transaction, and you will have to pay for the listing itself, so make sure to add in adequate shipping and handling costs to the price of the auction or it may end up costing you to sell them. If you have a species that is difficult to come by or extremely localized (e.g., sequoia) you may be able to charge more for them, so do your research on going rates.
Step 3
Place an ad on your local craigslist site or kwikswap site. Include an email or phone number at which potentials buyers can reach you. Include photos and prices. Because both these are local services you can offer to deliver the items, which may allow you to charge a little more for them than if you had to ship them.
Step 4
Sell pine cones at local farmer's markets or at a garage sale. Present them in a unique or creative way. It will make you seem more professional and your product more desirable.
Step 5
Create a website and sell them online. This can be lucrative when you have rare or localized species, or several species of pine cones to offer. You will have to balance the cost of maintaining a website and setting up a system of money transaction with the money you can make selling pine cones. Because there are many small businesses doing this, it is certainly feasible.