A turkey burger is a fantastic alternative to the classic beef burger due to its lower fat content and its ability to take on any number of flavors. It's one of my all time favorite burgers to make at home. This recipe for oven turkey burgers is great for ensuring that your burgers stay juicy -- and they are super easy to make! Plus, they are sure to satisfy all of your burger cravings without any guilt.
Things You'll Need
1 pound lean ground turkey

1/2 pound extra lean ground turkey

1/2 finely diced onion

2 tablespoons fresh chopped parsley

2 grated or finely minced garlic cloves

1 teaspoon + 1 tablespoon olive oil

1 tablespoon Worcestershire sauce

1 tablespoon kosher salt

1 teaspoon cracked black pepper

4 hamburger buns

Toppings of your choice
Step 1: Combine All Ingredients
Preheat the oven to 350 degrees F.
Combine the turkey, onion, parsley, garlic cloves, 1 teaspoon of olive oil, Worcestershire sauce, salt and pepper in a large bowl.
Using your hands, mix all ingredients together. Be careful not to over mix.
Step 2: Make the Patties
Form the seasoned ground turkey into four equal sized patties.
Step 3: Heat an Oven-Safe Skillet
Heat a cast iron or oven-proof skillet over medium high heat and add 1 tablespoon of olive oil. Add the turkey burgers at this time and let sear on one side for 5 minutes until caramelized.
Step 4: Place the Pan in the Oven
Flip the burgers and transfer to the preheated oven for 15 minutes until cooked through.
Tip
Add cheese during the last two minutes of cooking time if desired.
Serving the Burgers
Top the burgers with extras such as cheese, lettuce, red onion, pickles, and whole grain mustard. Feel free to add or subtract your favorite flavors.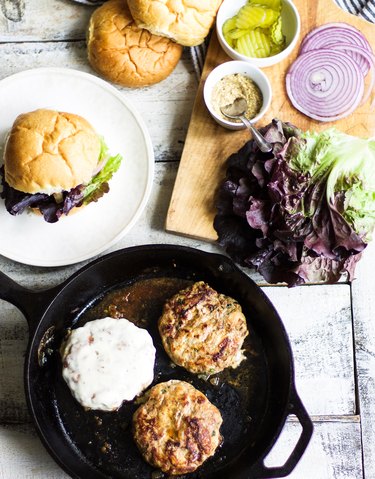 These oven-cooked turkey burgers are easy, healthy, and full of flavor!