Take your domino game to a whole new level of fun with these giant wooden lawn dominoes. These will be a hit during your next summer gathering or enjoyed any day by young and old alike.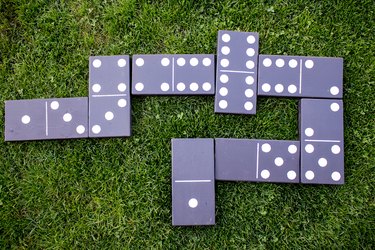 Things You'll Need
Four pieces of 2x6x8 non-treated pine wood

Miter saw or hand saw

Sandpaper or handheld sander

Paintbrush or roller


Heavy cardstock or cardboard


Outdoor white paint and another color of your choice


Utility knife

Pencil

Stiff-bristle brush
Step 1
Using a miter saw, cut the pine wood into 28 planks, each measuring 11".
Step 2
Use a sander or sandpaper to smooth and round the edges of all 28 planks.
Step 3
Lay your pieces of wood on a flat surface and paint one side and edges with a paint roller or paintbrush and allow to dry. Once dry, flip them over and paint the other side.
Tip
Depending on the quality of the paint you are using, you may require two coats for full coverage.
Step 4
Print and cut out the template. Trace the template over thick cardstock or cardboard and then use a utility knife to cut out all 14 holes.
Step 5
Place cardboard over your painted piece of wood and, while holding firmly in place, use a stiff-bristle brush to dab white paint onto domino piece, being sure to also paint the line in the middle of the template.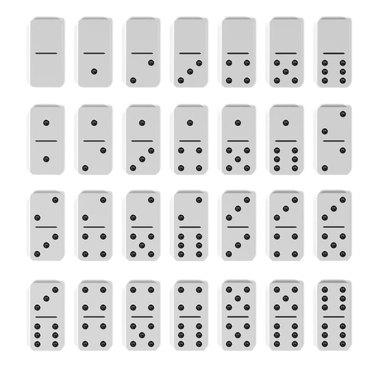 Step 6
Slowly lift the template from the domino to reveal the dots.
Step 7
Referencing the domino set image provided, repeat this process until all 28 dominoes are prepared.
You can paint your planks the traditional white dots on black, or if you're feeling more creative, paint them in the bright colors of your choice.