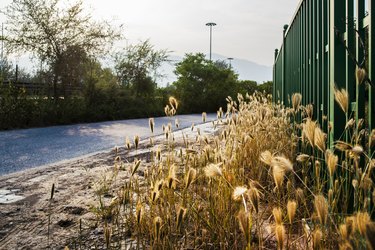 It can be frustrating when uninvited weeds and grasses, like foxtail, invade your property. What kills foxtail in lawns, and are there natural options available? This is vital information to know because foxtail is unsightly, and it can also harm your pets.
Foxtail includes different weedy grasses that belong to the genera Setaria and Alopecurus of the family Poaceae. Setaris is also called "bristlegrass" and has flat, thin leaves and spiky seed clusters resembling bushy foxtails. There are 125 species of these annual and perennial grasses, and 40 of them are found in North America. Yellow foxtail (Setaria pumila, USDA plant hardiness zones 5-9), green foxtail (Setaria viridis, zones 5-9) and bristly foxtail (Setaria verticillata, zones 5-10) are three examples. The latter has some of the worst barbed bristles and grows up to 3 feet high.
Alopecurus has just 25 species, and most of these are perennial. These have brushlike flower clusters and aren't known to be as bristly as their cousins. An example in this group is meadow foxtail (Alopecurus pratensis, zones 4-9), which is used as a forage grass in parts of northern North America and tops off at about 30 inches tall with light green flower clusters.
Foxtail can be harmful to dogs and cats who encounter them outdoors. The unwanted grass starts sprouting up all over the place in the late spring, summer and early autumn, and in places like California, it hangs around all year long. The sharp and pointed seed cluster tips can get lodged in an animal's mouth, eyes, ears, nose, skin and paws and can lead to infections.
Dogs are also prone to eating foxtails, which can be even worse. Those sharp edges can perforate an intestine or cause a severe infection that leads to an abscess. Either condition could require emergency surgery, medications and long recovery times not to mention astronomical veterinarian bills. Symptoms of foxtail problems in your pets include limping, discharge or swelling, constant licking between the toes or elsewhere, pain at the slightest touch, coughing, blood in the urine, lethargy, no appetite and a rotten smell coming from a wound.
How to Kill Foxtail Grass Naturally
If you're struggling with foxtail taking over lawn grass and you have a dog or cat, you'll want to treat the problem in the safest manner possible. Vinegar kills weeds and can be a good option. This method won't work for a large lawn that's completely overrun with the grassy weeds, though, since you have to apply it with a spray bottle. It's a good solution for smaller patches but keep in mind that the concoction will also kill healthy grass and nearby plants.
Pour a gallon of white vinegar (5 percent acetic acid) into a spray bottle and add 1 ounce of dish soap. Shake the bottle and spray the mixture right onto the foxtail. Do this on a sunny day when there is no wind or threat of rain. The sun will help the vinegar to kill foxtails, but you may need to reapply it if the spray doesn't get into the roots and kill the weeds.
How to Get Rid of Foxtail Grass in Hay Fields
If the foxtail problem is more widespread, you may want to resort to chemical means to eradicate it. Farmers and others who have large fields to maintain turn to herbicides that contain glyphosates, like Honcho and Roundup. Foxtail is a grass and not a weed, so broadleaf herbicides will have no effect. On the other hand, glyphosate is nonselective and kills other grasses plus broad-leaved weeds.
Foxtails can be hard to control, but you can take preventative measures to prevent them from taking over your lawn. A crabgrass preemergent product applied in the early spring can prevent foxtail. You can safely use some products to kill foxtail without harming your lawn, like Roundup for Lawns and Ortho Weed B Gone Plus Crabgrass. Make sure to keep your pet off the treated area for the amount of time recommended on the packaging.