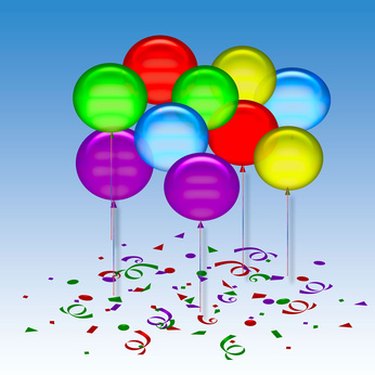 Planning a birthday party for a grandparent can be an enjoyable and memorable experience for the entire family. With attention to detail, a milestone celebration such as an 82nd birthday can be a prime opportunity to create lasting memories for the special guest of honor and party attendees. However, planning an occasion such as this also involves taking into consideration party activities suitable for people of all ages. Party celebrations for seniors often involve large groups of older adults and young children.
Step 1
Determine the basic details of the event such as the date, time of day, event budget and estimated number of guests to be invited.
Step 2
Involve the children and grandchildren in developing the guest lists and other party details if possible. If there is not a professional party planner or company involved, delegation of tasks will help to ensure one person is not overwhelmed. Although it is tempting to invite everyone whom the special guest has known throughout her lifetime, be mindful of budget and including those people who are most meaningful to her.
Step 3
Send invitations out at least one month in advance. If you are expecting a large number of people from out of town, notify guests as soon as possible.
Step 4
Determine a venue, theme and party colors for the event.
Step 5
Develop a food menu keeping in mind dietary needs of seniors. Determine if the cake will be homemade or created by a bakery using the selected theme colors.
Step 6
Develop a program inclusive of family and friends to acknowledge the special guest of honor. Photo collages, slide shows, tribute songs and talent performances are all great ways to pay tribute to the grandparent.
Tip
As you go along, keep a checklist of all the party planning tasks, completion dates and the person responsible for completing the task. Have helpers available to assist seniors and make the venue accessible to the handicapped.