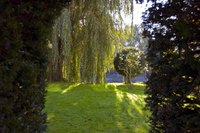 Riding mowers are generally designed for large green spaces, which require longer hours and more labor than can be done effectively with a walk-behind mower. For spaces that have many obstructions such as trees, paths and lawn structures, zero turn mowers offer finer control of speed and cutting. Toro manufactures a wide variety of zero turn mowers whose speed can be adjusted, providing the operator with the right rate of speed for each mowing task.
Sit in the driver's seat of the Toro zero turn mower.
Move the control arms out to the sides to set the mower in park.
Set the mower blades to their off position by pressing down on the blade control switch, a circular knob located to the right of the ignition keyhole and throttle handle.
Move the throttle handle to the choke position. The choke position is just above the green rabbit icon and is represented by two white vertical lines with a white diagonal line between them.
Insert the key into the ignition keyhole and turn it clockwise to the start position to start the engine.
Turn the ignition key counter-clockwise to the middle position after the engine starts.
Pull the throttle handle back to the middle position between the green rabbit and turtle icons. The speed of the mower may now be adjusted by moving the throttle position forward or backward. The rabbit icon represents faster speed; the turtle represents slower speed.