Things You'll Need
Paper towels or clean cloths

Household cleaning spray

Enzymatic cleaner

Fabric freshener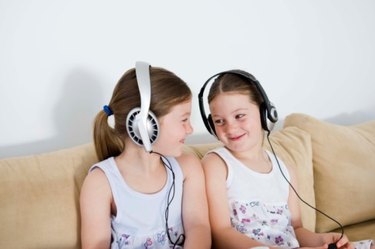 Feathers and down are among the most comfortable materials for sofa cushions and last a long time. Generally, the pillows and back cushions might be filled with feathers, while the main cushions usually are made with a foam core for extra support, then wrapped in layers of down and feathers. For easier maintenance, seek down sofas with removable, washable covers or slip covers. Maintenance also is easier with down sofas featuring fabrics such as corduroy, microfiber or cotton.
Step 1
Frequently fluff the cushions to help them retain their shape. Feather cushions tend to sink with time and can appear untidy. Turn the cushions over and shake them to redistribute the feathers evenly throughout the cushion. Plump them with your hands and set them back in place. Brush your hands over them to smooth them.
Step 2
Clean the upholstery as directed by the manufacturer. If the sofa has removable cushion covers, wash them in cold water on a gentle cycle if the care tag permits water cleansing. Zip the covers closed before washing. Dry them on a low setting to avoid shrinking. If the covers cannot be washed and dried in a machine, spot clean them with an upholstery cleaner or use a dry cleaning solvent.
Step 3
Blot up spills immediately. Remove the covers if the spill permeats the upholstery, and lay clean paper towels or cloths on the cushions. Spray the area with a household cleaner for food and drink spills and blot again. Spray the area with an enzymatic cleaner for urine, vomit or feces stains. An enzymatic cleaner breaks down the soil and removes odors. Dry the cushions thoroughly before replacing the covers.
Step 4
Lay the cushions outdoors on a clean, dry surface for a few hours every six months. Avoid placing them in direct, bright sunlight because this will bleach the fabric. Airing out the cushions also will help remove any odors that might have built up. Occasionally spray the couch with a fabric freshener as well.
Tip
Turn the cushions over and rearrange them occasionally so that the couch wears evenly.