Things You'll Need
White felt

Black crochet cotton (Number 10)

Yarn needle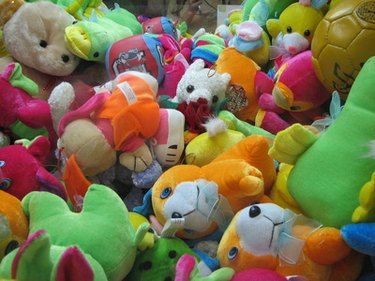 Homemade stuffed animals have a personality and flair that store-bought toys cannot duplicate. When you make your own stuffed animals as toys or gifts, you can create little faces with individual charm, making each mouth, nose and eyes different and distinct. Embroidered facial features are a safe way to make stuffed animals, ensuring that pieces do not come loose when young children play. Embroider eyes on a stuffed animal to give your little friends a special appearance.
Step 1
Cut two 1-inch diameter circles of white felt. These will be the whites of the embroidered eyes.
Step 2
Cut an 18-inch length of black crochet cotton and thread it through the eye of a yarn needle. Tie the end of the crochet cotton into a knot.
Step 3
Insert the point of the needle through the center of one of the white circles and pull the needle all the way through the felt until the knot stops it on the back of the felt.
Step 4
Position the white circle where you want an eye, with the knot hiding on the underside of the felt, and hold the felt circle there with one finger.
Step 5
Stitch the white felt circle onto the stuffed animal with the black crochet cotton. Make a French knot in the center of the circle by wrapping the crochet cotton around the needle two or three times and inserting the needle back down through the felt circle. As you pull the needle through slowly, a knot will form at the center of the felt circle.
Step 6
Push the needle down into the stuffed animal and direct the needle over to the point where you want the second eye. Position the second white felt circle at this point and make the needle come back out through the center of the white circle.
Step 7
Make another French knot in the center of the second white circle and push the needle back down only through the felt circle (do not push it back into the stuffed animal yet). Make a knot in the crochet cotton so the knot hides behind the felt circle and then push the needle into the stuffed animal's head to bury the knot.
Step 8
Direct the needle back out of the stuffed animal's head and tug the needle gently until the knot pops through the stuffed animal fabric into the inside of the stuffed animal's head. Clip off the excess crochet cotton even with the stuffed animal's head. The knot will stay buried inside the stuffed animal's head and the eyes will stay firmly in place.