Things You'll Need
Felt (sticky on one side)

Marking pen

Scissors

Tweezers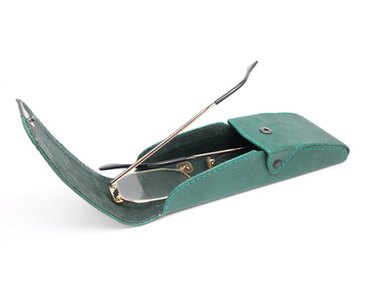 Eyeglass pads serve a few different functions. They are placed on the eyeglasses where they come in contact with the bridge of the nose in an effort to secure them on your face. Eyeglass pads are generally made of a gel or felt material which is soft to the touch. This reduces the "impressions" which are left in the bridge of your nose while wearing eyeglasses. When those pads fall off or need replacing, you might find yourself in a pinch until proper factory replacement pads can be ordered. Making pads yourself can be done with a few supplies and decent scissor skills.
Step 1
Purchase sticky felt from a craft store. Sticky felt will have an adhesive on one side, and felt on the other side. The felt will come in different thicknesses. Purchase felt which is 1/16- to 1/8-inch thick. Also, try to match the color of your glasses so that the nose pieces will blend nicely.
Step 2
Trace the old eyeglass with a marking pen on the felt. This will ensure that you have the proper shape. If you have lost the eyeglass pad, you can approximate the shape of the pad which will fit over the metal or plastic bridge piece. Many eyeglass pads are a small, elongated oval shape.
Step 3
Cut out the oval shape using your scissors.
Step 4
Peel the sticky backing off. Try not to "handle" the adhesive part with your fingers so not to dull the "stickiness."
Step 5
Place the eyeglass pad on the bridge piece using your tweezers. Then press down on the felt pad with your fingers and hold for 20 seconds to secure the eyeglass pad to the bridge piece. Repeat this process on the other side if you need two eyeglass pads.
Tip
There are some felt eyeglass pad replacement kits on the market. These kits include several shapes of eyeglass pads. This removes the steps requiring tracing and cutting out, and allows you to simply "peel and press" your pads into the bridge of the nose.