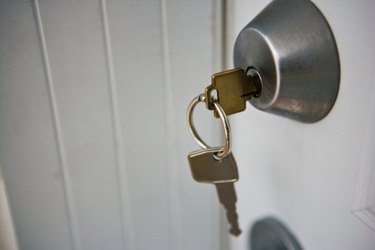 Since 1904, Weiser has been manufacturing locks, deadbolts and other security devices for both home and commercial use. Weiser locks work like most other locks, in that they feature a central cylinder that operates a deadbolt. The inside portion of the cyclinder contains a latch that slides the deadbolt in and out, while the outside face of the Weiser lock contains a keyhole that allows the operator to use a key for the same function. You can remove the cylinder in a new Weiser lock, whether for rekeying or replacement, without having to spend money on a locksmith.
Step 1
Position yourself on the inside of the door. The inside face will contain the door bolt latch and also have two screws facing you.
Step 2
Turn the latch to the closed position if it is currently extended.
Step 3
Loosen the screws on the inside face of the Weiser lock. These screws can be quite long. Use a power drill with a screwdriver attachment, if you have one, to make the work quicker.
Step 4
Pull out the inside portion of the Weiser lock. Use the latch bolt to pull the cylinder out towards you.
Step 5
Place your hand underneath the front portion of the lock. Slip your hand inside the lock cylinder space in the door and push out the front portion of the lock with your fingers.
Tip
If the Weiser lock is painted over, first scrape away the paint with a paint scraper before attempting to remove the cylinder.