Things You'll Need
Tape measure

Large clear plastic bag

Ticking fabric

Scissors

Sewing machine

Thread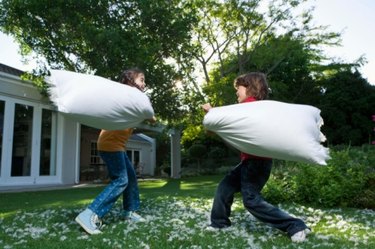 The outside cover on a pillow is called the ticking. Ticking fabric has a very high thread count and a tight weave to prevent the feathers from poking through. Purchase actual ticking fabric or a sturdy fabric with a thread count above 300. The only difficult part of replacing a ticking is transferring the feathers. Down is difficult to work with because the feathers fly everywhere, but a few simple steps can make the process easier.
Step 1
Measure the length and width of the pillow from seam to seam. Add 1 inch to each of these measurements and cut two rectangles of fabric with these dimensions.
Step 2
Place the right sides of the rectangles together and stitch around all the edges with a straight stitch and a half-inch seam allowance. Leave an 8-inch opening in one end for stuffing.
Step 3
Sew a zigzag stitch in the seam allowance to finish the seam. Clip the corners and turn the ticking right-side out.
Step 4
Place the old pillow and the new ticking in the large plastic bag. Cut a hole in the old ticking and transfer the down from the old pillow to the new ticking.
Step 5
Remove the pillow and sew the opening closed. Pull the seam on each side of the opening to bring the edges of the opening together and machine-stitch close to the folds.
Tip
Cover the hose attachment on a vacuum cleaner with an old nylon stocking. Use it to remove the last of the feathers.
Turn off any fans and shut any windows before you open the old pillow to prevent a draft from scattering the feathers.