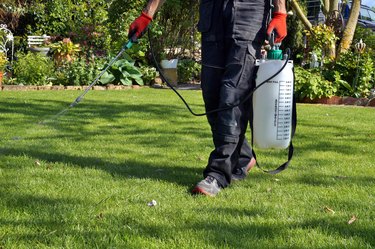 A Fimco sprayer is one of the better-known sprayers in the lawn and garden industry. If you have one, chances are you appreciate it; that is, until your Fimco sprayer pump won't turn on or work properly. While Fimco is a highly reputable brand, there are some common issues that are endemic to these valuable and crucial pieces of equipment.
Fimco sprayers are typically used in industrial or large-scale farm settings. They're heavy-duty sprayers often attached to an all-terrain vehicle (ATV). That means that any breakdown in their functionality can result in significant disruptions to your livelihood or to your ability to feed yourself and your family.
Troubleshooting a Fimco sprayer pump can also seem a bit daunting for those who aren't accustomed to making repairs on this kind of equipment. Luckily, there are some great resources available that can help you diagnose the problem and hopefully fix it speedily and inexpensively.
What's Wrong With Your Fimco Sprayer?
If there's a problem of any kind with your Fimco sprayer, the first place you should check is your owner's manual. Whether the problem is that your Fimco sprayer pump won't turn on or your Fimco sprayer is not building pressure, chances are good the manual can help. It's essential to keep your owner's manuals for all your equipment, but especially for heavy-duty items such as a Fimco. If you no longer have your manual, you can do an internet search for your make and model and find it online.
One issue that commonly occurs is Fimco sprayers not building pressure. If this happens, you may need to clean your filter screen (which could be clogged) or clean the check valve. There may be debris in the check valve, or it may even be damaged. If that doesn't fix the problem, make sure there isn't a leak or hole in the supply line or cracks in the pump housing or line – the discharge hose could also be too long.
These are even more likely to become issues if you haven't performed routine care maintenance. After each use, you should rinse your pump with a tank neutralizer. In addition to this, be sure to always to store your sprayer indoors, away from the elements, and winterize the machine if necessary. Always use clean water and never use your sprayer to pump bleach, fuel or any other type of liquid.
If the pump won't run, the likely culprit is loose wiring or a faulty fuse. Refer to your manual to find where these are and check each one – fuses can blow from defective wiring or a voltage surge.
Where to Find Fimco Sprayer Parts
If you've skipped some recommended routine maintenance, you may need to buy replacement parts for your Fimco sprayer. Some of the most commonly replaced parts include the hoses, filter screens and check valves.
Of course, the best place to find Fimco sprayer parts is directly from the manufacturer. Fimco sells replacement parts, including the parts listed above as well as replacement tanks, wiring, accessories and more, on its website. You can search by make and model; in addition, the company has knowledgeable customer service agents available by phone, email, or online messaging to assist you if you still have questions.
There are dozens of other retailers who also sell parts for Fimco sprayers. These include Tractor Supply, Agri Supply, Northern Tool, Grainger Industrial Supply, Blain's Farm and Feed and several others. Most don't keep only the most common and universal parts in stock. If you have a supply company with which you prefer to work, see if it can order the parts you need.