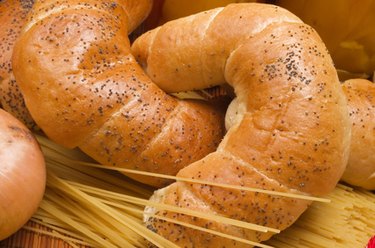 To help your bread doughs rise evenly and quickly you can use a proofer, or heating cabinet. These tall, commercial appliances hold several trays of rising bread dough in a temperature-regulated cabinet. A proofer can also be used as a holding area for keeping food warm for a long period of time. Most proofers have simple knob controls at the base of the appliance.
To Proof Dough
Step 1
Fill the pan at the base of the proofer one-third to halfway full of warm water. Too much water will cause the proofer to be too humid and your dough won't rise properly.
Step 2
Plug in the proofer. Flip the power switch to the "On" position.
Step 3
Choose "Proof" on the selector switch. Turn the humidity knob to between 90 and 95 degrees Fahrenheit, depending on the requirements of your recipe.
Step 4
Position your trays of thawed or fresh dough in the proofer. Close the door and set the timer according to the instructions in your recipe. Depending on the temperature and number of rolls in the proofer, you will likely need between 30 and 50 minutes for the rolls to proof. Do not cover the dough while it is in the proofer.
To Use as a Heated Cabinet
Step 2
Flip the power switch to "On." Set the selector switch to "Heat." You will not be using the water pan at the base of the unit, so either remove it or leave it in place without adding water.
Step 3
Set the heating knob to the desired temperature, depending on the food items or recipe instructions.