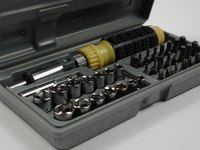 Encountering a roadblock during a home-repair project is frustrating, especially when the difficulty is something simple like a stuck screw. Installing new bath fixtures or ceiling fans or simply replacing light switch covers can come to a complete stop because of a screw that will not cooperate. Brute force often makes the problem worse, with the risk of stripping the screw entirely. Fortunately, the proper use of an impact driver and a little finesse can get your repair project back underway.
Things You'll Need
Impact driver
Appropriate bit (Phillips or standard)
Instr
Determine whether your stuck screw has a Phillips or a sStandard screw head and select the matching screwdriver bit. Open the bit holder of your impact driver, insert the screwdriver bit and tighten.

Clean the stuck screw head of any loose dirt and debris. Set the impact driver for left turning to loosen the screw. Put on your safety glasses and place the impact driver bit snugly into the screw head.

Strike the impact driver solidly on the handle end with a hammer. The bit will set firmly into the screw head and the impact driver head will rotate, loosening the screw.