Things You'll Need
Screwdriver

Large container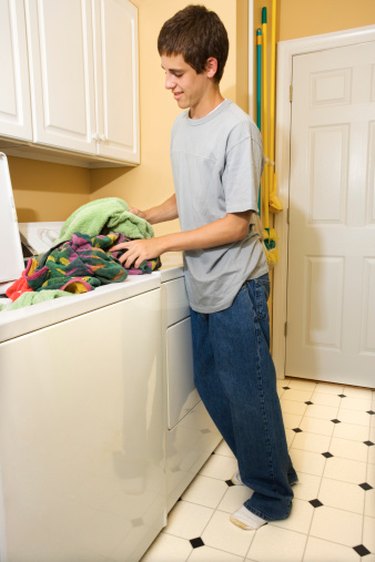 The General Electric Company, or GE, manufactures different types of home appliances, including air conditioners, warming drawers, microwave ovens, ranges, refrigerators, washers and dryers. The GE top-loading washer is available online and in select appliance and department stores and offers various features, such as pre-wash, soak and speed wash cycles, as well as multiple drum sizes and different finishes. While the washer functions quite well with little interference, the filter on the washer will need to be changed occasionally to ensure proper functioning and performance.
Step 1
Turn off the GE washer and unplug from the power supply. Unscrew the screws on the front access panel and set the screws aside. Lift the front access panel off the washer.
Step 2
Locate the drain plug, which is typically a white plastic piece. Place a large container underneath the drain plug and slowly open the plug partially to allow water to drain. Opening the plug fully will cause a gush of water. Continue draining the water until no more water emerges from the drain.
Step 3
Pull out the drain plug. Attached is the filter to be cleaned. Pull the excess dirt, fiber, lint and debris from the filter. Rinse the drain plug.
Step 4
Return the drain plug in the washer and turn clockwise to tighten. Return the front access panel to the washer and replace the screws.
Step 5
Restore power to the washer prior to use.